All pipeline companies expend considerable time and money to insure the integrity of their. assets. Integrity work has developed into projects that cover long distances, involve all types of environments and require our crews and project managers to be adept at working in cramped city and suburban areas or in rural wetlands, forests and farms. Sometimes one integrity dig can turn into a project of its own when it is under a river or a marsh or the line is extremely deep. At other times it is easily accessed and a straightforward dig. In every case our attention to detail, safety, and planning for environmental conditions, leads to the completion of a quality project. Midwestern Contractors works closely with its customers to ensure that we meet the safety and quality expectations set out in their contractor's specifications and job requirements. We have taken the position that our safety and quality assurance programs are drafted to the highest standard set out by our customers. By doing this we know that we are meeting or exceeding expectations at all times.
Our customers define Integrity/maintenance as it relates to the facility or asset they are managing. We divide our integrity efforts accordingly: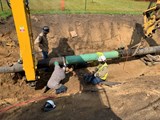 Pipelines, Liquids, Gas, Industrial Gas, Ammonia, CO2, BioGas
Integrity (Digs or Hydrotest)
Pipeline Control (Modifications or additions of valves and associated automation)
Corrosion Control (Ground Beds, IR Test Stations, Cathodic Protection Services)
Geo Technical work (Stream bank stabilization, Cofferdams, Erosion Control, bladder dams, native seed restoration, habitat restoration)
Pipeline Lowering, cut outs, relocations (In or out of HCA's)
Horizontal Directional Drills, Auger Bores under Road, Rail, Rivers.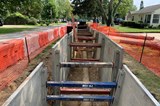 Stations, compressor or pump, Meter and Regulation facilities, prover loops
Valve replacement and automation
Ultrasonic meter installation and associated sampling equipment
Slug catchers, separators, gas heaters, pumps and compressors
Piping and valve demolition, modification and replacement
Civil work, footings, piers, foundations and pipe supports.
In house Hydro-vac with our trained operators.
Fencing, grading, restoration
Ground beds, Corrosion Control, Cathodic Protection
We manage every project by carefully allocating tradesmen and equipment. We also use tight forecasting and fiscal controls to track costs and stay within budget. This attitude means that our managers are only using our ROW agent, welders, and other assets, as needed, and it saves our customers money and gives us flexibility to move crews and allocate resources as needed. We can perform integrity work on just a few digs with the customer providing permitting and ROW work; or we can do 'turnkey' integrity projects where we do the permit and ROW work, land owner settlements, road, walkway and landscape restoration. The choice is up to the customer.
To insure quality coatings, each step from sand blast profiling, to environmental monitoring, and coating thickness is documented. All of our coating applicators are certified by the manufacturer to apply specific products either through brush, roller or spray applications. For below ground work we typically use Denso, SPC and 3M. For above ground work we use Carboline, PPG, Sherwin Williams.
Station Maintenance requires the same careful planning but safety takes on an even more important role when our crews are making modifications inside the fence of an operating station. Excavation by conventional, hand or, in house hydro-vac units with our own trained operators. Lock out, Tag out protocols, Drain ups, Blow Downs, De-energizing circuits, all are important parts of the safety puzzle that must be worked out hand in hand with our customer's project managers, construction superintendents and station operation crews. We have performed all manner of station projects over the years, from simple valve change outs to major modifications and renovations requiring liquid or gas bypasses, demolition of existing assets and installation of new, all while maintaining station operations and product flows.
Midwestern Contractors understands the importance of integrity work. We will give you a turnkey project or bid for an individual dig site. Please submit your RFI or bid proposals using the form below.