Integrity Project Gallery
PIPELINE INTEGRITY OVERVIEW 
Pipeline integrity is no accident. It takes a massive effort to prevent a pipline failure. Pipeline operators schedule inspections of their pipelines by internal scanners called smart pigs. These devices move through the pipeline and scan the walls. This creates a digital map of the wall thickness. Defects in the wall are measured in terms of area and wall thickness. After analyzing these results the anomalies are divided into priority repair categories, e.g., immediate, 30 days, 60 days, etc. This process is carried out at regular intervals.
After the data analysis is complete and the priorities are set contractors are invited to bid to excavate the pipe and make the repairs. Pipelines know no boundaries. The length of a pipeline can be measured in tens to hundreds of miles. Laid underground, the line crosses roads, highways, rivers, marshes and runs through cities, suburbs and rural areas. Over time these lines can be buried even deeper as roads are widened and elevated or other fill activities take place. The job of excavating and repairing an anomaly is not always simple.
Contractors play a key role in the area of pipeline integrity. Gas and oil companies have very strict standards for safety, quality of work and environmental protection. The work is inherently dangerous.The steel wall of the pipe is the only thing that separates the crew from explosive natural gas or petroleum distillates. The elements that Midwestern Contractors factor into any integrity project are:
ELEMENTS OF A SUCCESSFUL INTEGRITY DIG PROJECT
Thorough understanding of the company's safety program
Training on shoring, excavation, coating, aerial or over water work
Familiarity with companies safe work procedures for excavation, welding, coating
Verification of employee training, certifications, and operator qualifications (OQ)
Verifification all permits for accuracy and currency (Traffic, environmental, spoil handling)
Project planning: personnel, equipment, material, environmental protections
Restoration specifications
Community notifications 
The following photo gallery shows integrigy work in various situations and will give the reader a feel for what it takes to do this work safely and with minimal impact on the environment.
INTEGRITY WORK PROJECT GALLERY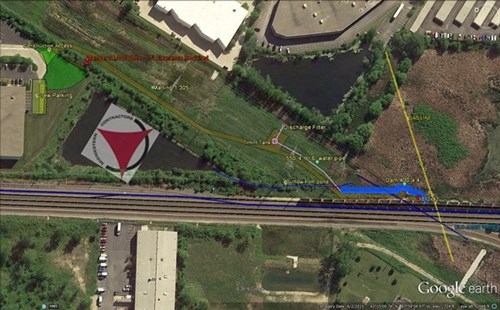 Site layout for anomaly dig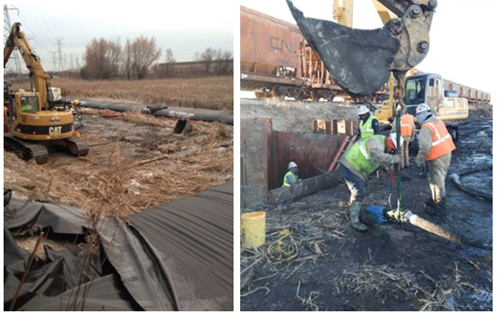 Anomaly in a marsh, next to RR and under 135kv power lines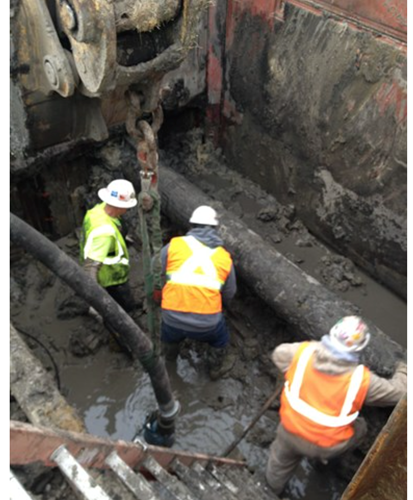 Exposed pipe in muck and heavy clay soils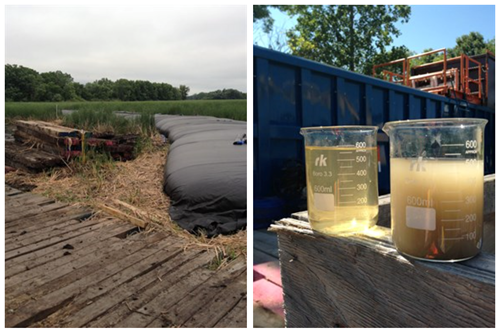 Bladder dam deployed and water treated by a flocculation system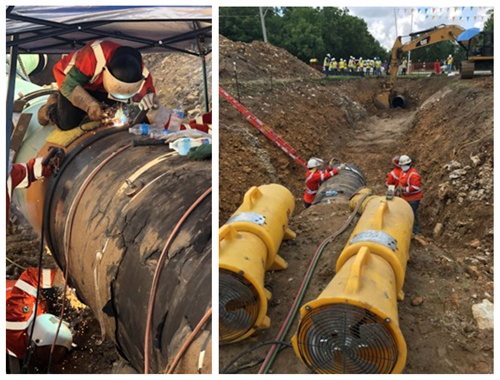 Cutting out and tieing in a 42" gas line with a 3 degree bend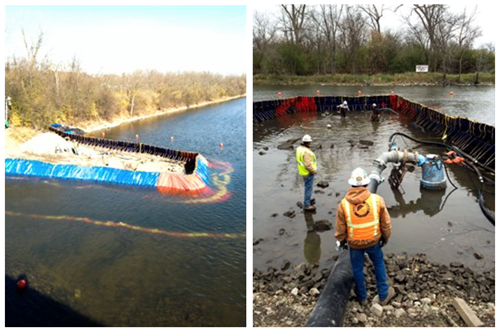 Accessing an anomaly with the use of a cofferdam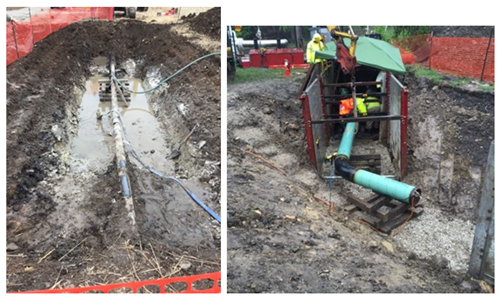 Exposed pipe (L) - Corrosion on a bend forces cut out and replacment (R)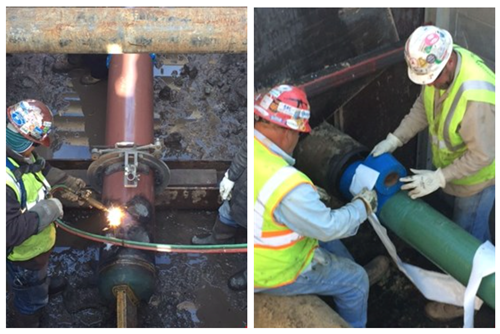 Cutting off a pull head after winching a replacement pipe (L). Applying tape coat (R).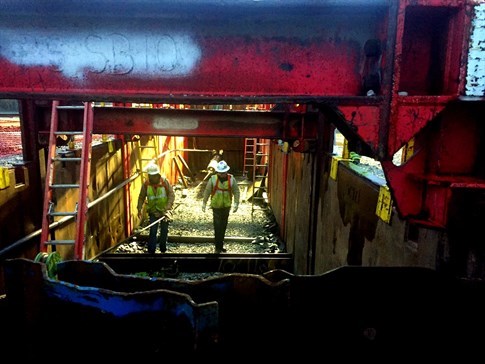 Engineered shoring in place in a rail yard. A complicated repair along a 1,000' casing with limited access.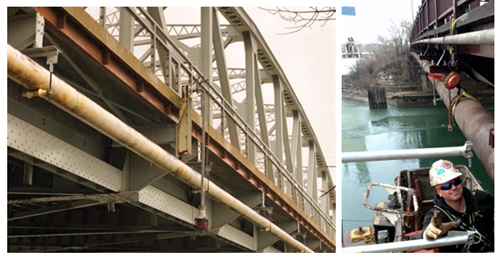 Aerial integrity work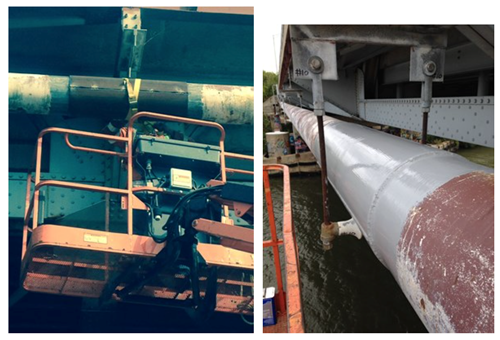 Fitting a sleeve on a suspended pipeline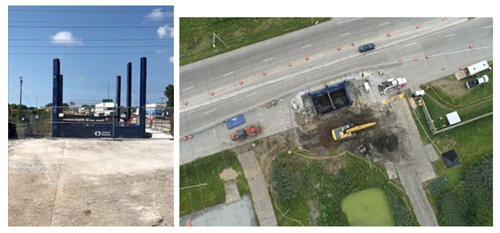 Installing deep shoring to access an anomaly 32 feet down (L) - Drone shot of dig site (R)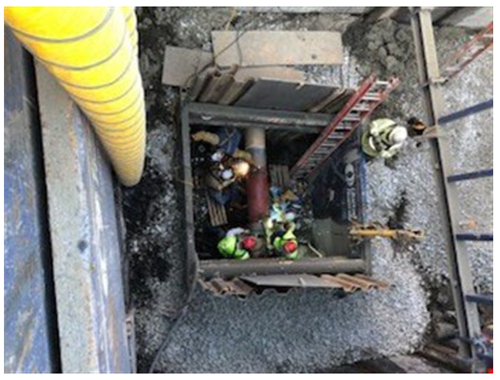 Welding on a sleeve, 32 feet underground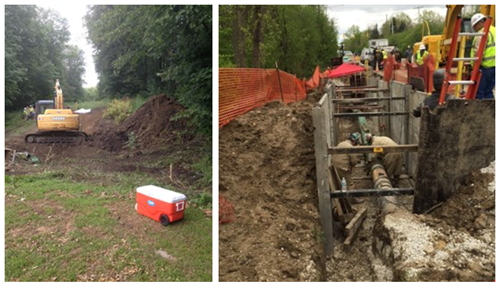 Dig site (L) - Shoring to access a crack feature (R)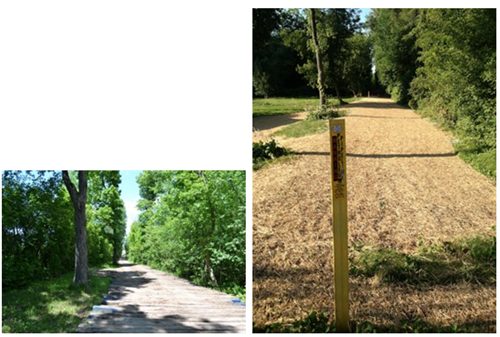 Mat road (L) - Restored ROW (R)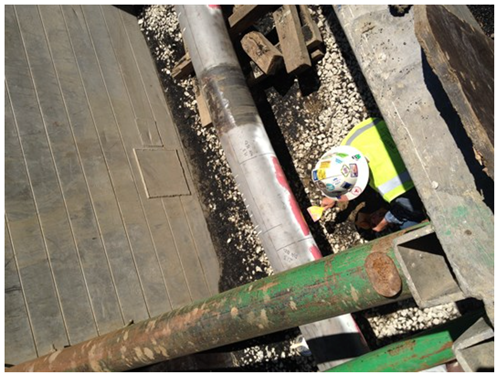 A Black Diamond repair on an anomaly along a bend