Gas System Upgrade, 35 mile Hydrotest and Two River Crossings (Includes Video Content)
During the 2014 construction season Midwestern Contractors (MWC) completed a large gas integrity project in Northern Illinois. This project included fabrication, piping modifications, launcher and receiver installations, valve installations and hydro-testing of line segments. So complex were the stages and processes involved in successfully completing this project that we decided to time-lapse film a portion of it and convert it to a video you may wish to preview. "DuPage River Crossing," shows one of the river crossings and how MWC successfully accomplished all steps required during this stage of the project.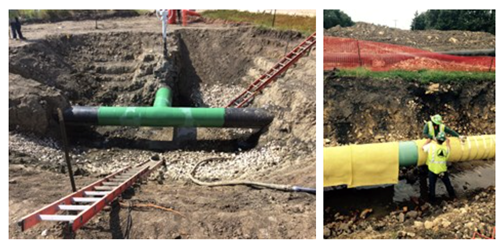 First and foremost, a construction yard was established for the fabrication work. Materials were delivered to this yard and most of the fabrications were completed and hydro-tested in advance. They then were loaded onto trucks and delivered to the installation sites. Due to the uniqueness of this project, resulting from its location and the weather, some of the offsets were fabricated on site as needed, then lowered into place and tied in.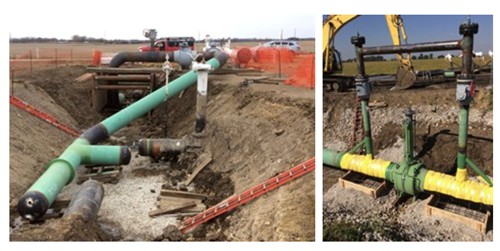 Overall 2014 was an extremely wet year. Managing surface water is always a challenge and last year proved to exceed our usual expectations. Many of the excavations we undertook not only had to be dug but also dewatered after one of innumerable storms moved through the area. Timing the excavation and civil work to meet the outage schedule became a juggling act of moving and transitioning men and equipment to and from job sites in the most efficient manner possible.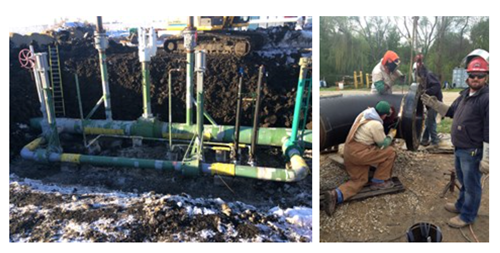 Two river crossings were part of the overall gas line integrity project that we completed. To compound matters both of the crossings impacted environmentally sensitive areas in the form of bottomlands, riverbanks and stream bottoms. The intermittent rainstorms that moved through these watersheds caused rapid fluctuations in their stream flows. Much of the area around these rivers is suburban in nature. As such, where there are agricultural fields they are drained with networks of tiles, allowing for any rain that falls to swiftly and efficiently move into local streams and rivers. When the flows were at their peaks it was difficult, and sometimes nearly impossible to control the bladderdam structures protecting the work areas. Our crews, in consultation with Dam-It-Dams, did a great job of managing through this and the job was successfully completed with no incidents.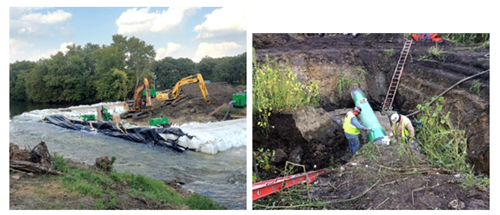 From a safety standpoint the entire project was accomplished without flaw. As a result of the professionalism in project management and execution that we were able to provide, our client was able to meet its gas delivery schedules and resume activities within the timeframe they anticipated. Midwestern Contractors takes pride in its ability to accomplish challenging projects, overcome unanticipated obstacles and deliver quality work safely, and on time.