Integrity Work on Suspended Pipelines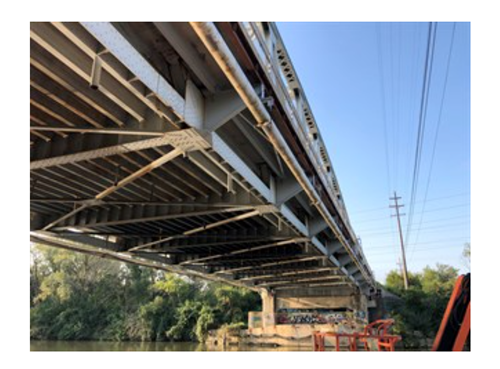 Midwestern Contractors Works on Suspended Pipeline
Pipelines carry products from point A to point B. In the process they go through, under or over surface features, to get to their destination. The Department of Transportation mandates that lines be inspected periodically. All defects are mapped, cataloged and assigned a priority to repair. Engineers sort out these priorities and assign contractors to address the anomalies.
This process has made pipelines one of the safest vehicles for transporting petroleum and other products over long distances. Through automation the batches of various products, like gasoline or diesel can be efficiently routed to their destinations and then pumped into delivery trucks for the short ride to the point of distribution.

Midwestern Contractors has been called upon for integrity work since the company's inception in 1951. Some of the most interesting, challenging and dangerous integrity work is that occurring on suspended pipelines. This work is largely overwater with a requirement for skilled tradesmen to work out of man lifts. The working conditions under bridges are usually cramped. The man lifts are limited in their ability to lift. Cranes are awkward to use around bridges. Pipes move with the bridge making welding even more challenging. Maintenance on suspended pipelines, due to their inaccessibility is sometimes deferred.
During inspection and documentation of one bridge several anomalies were discovered and addressed. Some of the corroded areas were very light and required rust removal, surface cleaning, priming and painting. Others required sleeves to be welded on and tested by mag-particle. But once onsite, with a barge and crew all areas of the pipe must be looked at carefully and addressed. Once demobilization occurs, it is very expensive to go back. It is very important to find good marine contractors like Lakes and Rivers Contracting to provide the support needed to carry out the project. 

Midwestern Contractors prides itself on managing projects like these properly, making sure every detail is covered and returning to the customer a project that is done properly. Our goal is for our customers to have complete faith in our work and the improved integrity of their pipelines.