Culture of Success
A relentless desire to communicate, execute, succeed and deliver quality services at every level
Professionalism
A reputation built through performance, honesty, integrity and a team mindset.
Responsiveness
Dependability. A willingness and ability to meet changing customer demands.
Employee Purpose
To grow professionally by learning new skills, embracing new challenges and by striving to have a positive impact on the people in our lives.
Our Mission Statement
Electric Conduit Construction Company and its division, Midwestern Contractors exists for the benefit of its customers, employees and owners.
To our customers...
Our mission is to provide you with high quality, professional construction services and on-time performance using qualified management staff, highly trained trades people and state of the art equipment and technology. Our services will add value to your organization at a reasonable and competitive cost.
To our employees...
Our mission is to create a safe and environmentally friendly workplace that lends itself to the efficient and productive completion of each task; to provide the training and knowledge necessary for you to be a productive part of the construction process while on the job and a better member of the community at home; and fully compensate you for your efforts.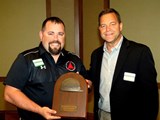 Our History
Midwestern Contractors has been in the business of installing piping systems for the oil, natural gas, industrial and RNG industries for over 70 years. In 1962, Midwestern Contractors merged its operation with Electric Conduit Construction Company.
Since its inception in 1951, Midwestern Contractors has grown and kept pace with the industries it serves. Along the way, we have built a reputation for quality work, an experienced workforce and quick response to our customer's needs. We establish long term relationships with our customers and pride ourselves on our ability to mold our operations to respond to the fast paced changes in the natural gas, RNG and refined products industries.
Along with our parent company, Electric Conduit Construction Company, we offer a complete range of utility construction services including:
Congested urban underground and overhead construction
Trenchless technology, HDD
EPC for RNG, Solar, EV Charging
Pipeline construction, pipe fitting for station construction or modification.
Electrical distribution extension
Industrial electrical work
Overhead and underground OSP fiber
24/7 emergency call out and maintenance
Pipeline integrity work