Midwestern Contractors Earns DCA Safety Award
The Distribution Contractors Association (DCA) held their annual meeting in Naples, FL. the week of February 15th, 2016. Among the many highlights of the annual convention one stood out for Midwestern Contractors, The Arthur T. Everham Safety Award. Mr. Everham was one of the original founders of Midwestern Contractors. Art Everham was a visionary in many ways and one thing particularly important to him was safety. Early in his involvement with the DCA he was very interested in promoting safety in an industry, which at the time, was rife with hazards. After his passing the DCA named their safety award after him.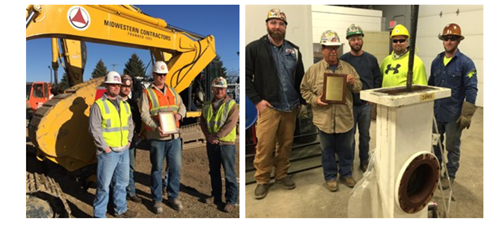 Some of our employees that work safe and earn safety awards. Thank you!
Each year roughly 85 contractors compete for this award. Contractors are separated into groups based on the number of man hours recorded for each year over a four year period. The groupings are 0 to 300,000 hours; 301,000 to 899,000 hours; and 900,000 hours and up. Each category requires the submission of the contractors OSHA 300 logs for the last four years. In addition the contractors written safety program is reviewed along with employee safety training programs, safety audit procedures, driver DOT and CDL compliance and other factors.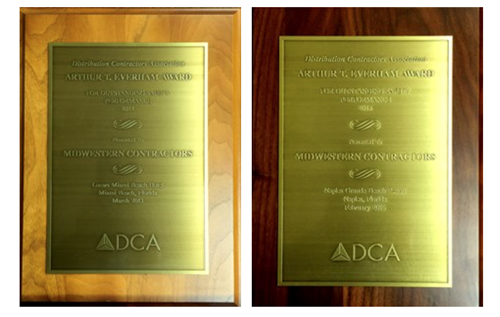 Arthur T. Everham Safety Awards (L 2013, R 2016)
Midwestern Contractors was honored to receive the award in 2013 and now again in 2015. All contractors who value their reputations and their ability to work in the oil and gas industries, work hard to develop and maintain a safety culture. No one wants an employee to go home injured. Making that one thing happens takes safety professionals, training, and belief by all employees that safe work happens because we all make it safe. Safety is everyone's responsibility. We thank the DCA for this honor and we thank Mr. Art Everham for being the visionary that he was.