Highway Expansion - Casing Extensions
Pipelines and highway right of ways are natural partners. There is usually enough room for both to run side by side. One is highly visible and the other, unless you know what a Carsonite marker looks like, is less likely to be noticed. There is usually no conflict in this arrangement, unless something changes.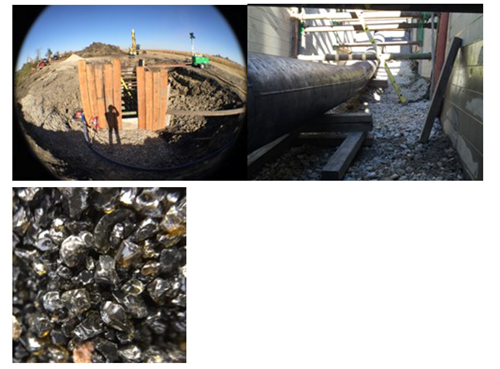 View of shored excavation (L). View inside excavation (C). Macro view of blast media used (R).
When it comes to highways there is always change. In the northern tier of states people of are likely to tell you that there are two seasons, winter and construction. As population expands, traffic increases, highways are widened, and interchanges are added.
Midwestern Contractors won a contract to extend the casings on several such sites. The pipelines ranged from 20 to 24 inches and the casings were 26 to 30 inches. Some of the extensions were as much as 50' in order to accommodate off ramps. Most of the work required excavations 18' in depth and from 20' to 75' in length. Soil conditions varied from silt loam to clay and sand. On one site the sandy loam was very porous and an 1100 gpm pump was run 24 hours per day, lowering an adjacent retention pond. Work under these conditions, with wet unstable soils, requires careful excavation and shoring placement. Turning off a pump, even for 30 minutes may mean 4' of water in the excavation and more time required to dry out the trench.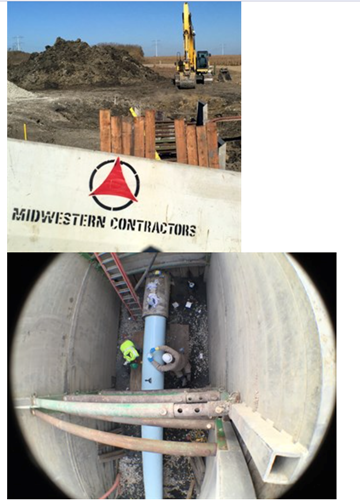 Traffic control barriers (Jersey Walls) (L)
Fisheye view of excavation (R)
Sand blasting to achieve the specified blast profile was required on the entire exposed pipe. SPC 2888 coating was used after the pipe was inspected and this application was checked with a thickness gauge and a jeep. Once the coating was set, the spacers were fastened to the pipe and the casing was welded in place. Finally link seals were installed and the trench was backfilled and compacted per DOT specifications in order to carry the off ramp over the pipeline.
Midwestern Contractors prides itself on quality work and safe work. Working around high pressure liquid and natural gas pipelines requires care and vigilance at all times. All six of these projects were completed on time with no incidents.
Thanks to Ztylus.com for the iphone 4 in 1 lens kit that helped us take these photos.