Gas Liquids Injection Piping
The project was meticulously designed and the piping runs totaled over 9,000' with most installed on racks and some underground. The purpose of the project was to install piping to carry butane from the storage field and into the refinery for processing and blending. 90% of the work was aerial requiring a combination of scaffolding and man lifts. The product piping, vent and flare pipe was welded into double joints and then placed on the racks. Pipe supports were fabricated and welded onto the pipe before the joints were placed on the racks. Once installed, the weld joints were cleaned and the painters came in for the prime and top coats.
The site was near an industrial complex with rail lines and roads crossing under the pipe racks. This caused challenges when equipment had to be moved from one location to another. there was no easy way to move anything since the road took a round-about way to get from one end to the other. In addition the rail traffic caused work stoppages when the crews were close to the tracks. 
Our site superintendent did a great job of coordinating the tasks, and resources to complete them. Our safety supervisors set up an incentive program and boosted participation in maintaining safety at all times. We had a mix of experience levels and it was extremely important to keep everyone on the same page with both the safety plan and the construction plan. Great attention was placed on PPE wear, fall protection, traffic control and equipment movement.
Rough terrain cranes were used extensively and had to be repositioned often. This process was closely supervised and spotters were employed during all equipment movement and crane operations. 
Non Destructive Testing was integrated into the entire process to enable the inspectors to do most of the inspecting with the pipe on the ground. 
Thunder storms and lightning caused weather delays and stand downs due to the electrical activity. But those were the only delays. No one was injured and no time was lost to any safety incident. We can thank our safety team and our customer's safety team for that. 
PROJECT NOTES:
OVER 12,000' of pipe, divided roughly into thirds between 12", 8" and 3" standard wall pipe. 
Pipe supports fabricated on site, risers fabricated on site.
Pipe rollers pre-fabricated
Coating system consisting of prime coat and top coat
PHOTO FILE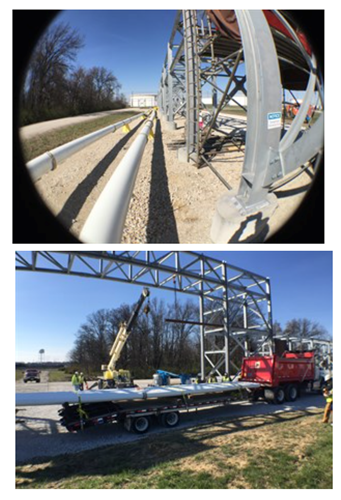 View of pipe racks through wide angle lens (L). Offloading pipe (R).
12" Pipe (L), Picker (R)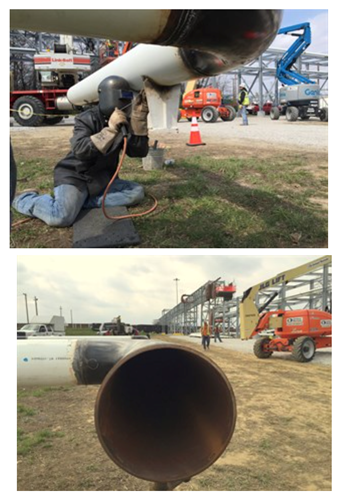 Welding support on riser (L). Riser fabrication (R)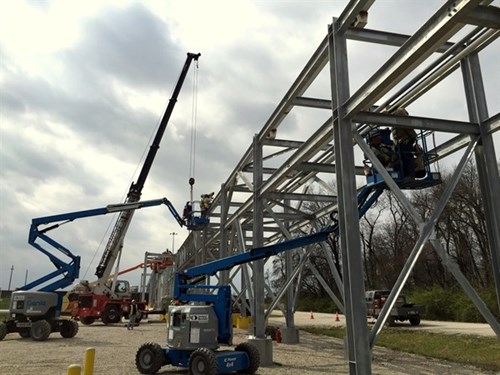 Welding from man lifts
12" pipe installed (L). Weld, macro view (R)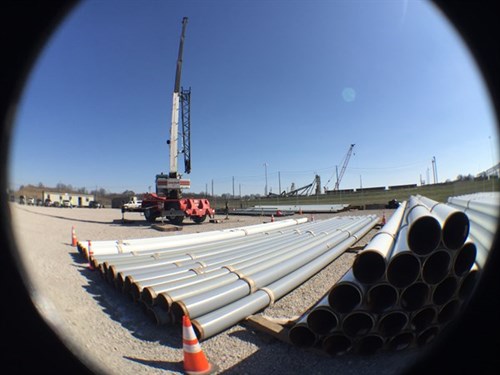 Laydown yard