DCA Safety Director of the year awarded to Midwestern Contractor Employee
The DCA Safety Director of the Year award is issued annually. The winner is determined by the DCA board and members. It is a peer reviewed award and the judging occurs at the annual DCA Safety Congress. This year it was held in San Diego California.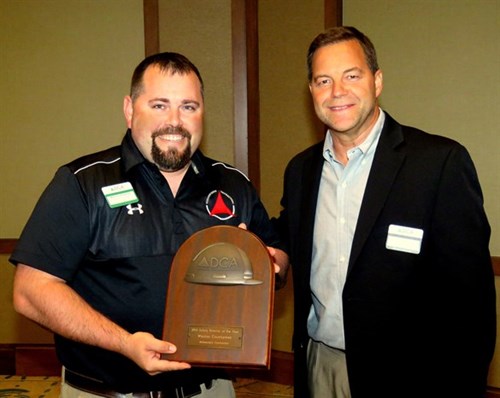 Mr. Dale Anderson (R), presenting the annual 'Safety Director of the Year' to Mr. Weston Countryman.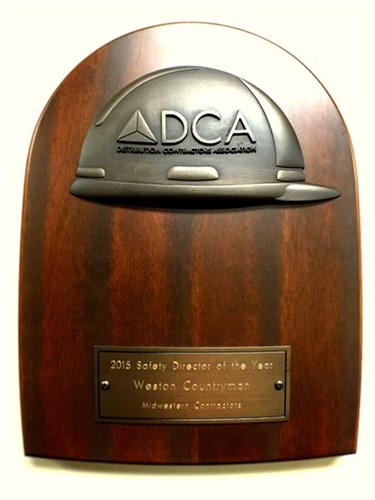 Countryman has directed safety operations for Midwestern Contractors since 2009. Since that time hea has carefully analyzed our safety results and initiated several programs that have had positive results for worker safety. Those accomplishments include the design and implementation of a soft tissue injury mitigation program which dramatically reduced these type of injuries. He also has been instrumental in developing more in depth training programs for new hires and inservice training and certifications for our experienced foremen and superintendents. Some of his ideas have led to greater employee involvement in safety and have worked to improve the overall safety culture of our organization.
One such program GoodSafetyCatch.com has created a vehicle for alerting the safety team to hazardous situations or near misses. Both of which can be reported anonymously or named. This program has already yielded leading indicators that may have saved lives or prevented injuries. We will never know which and we are glad for the information and the opportunity to catch situations before they develop further. 
Our hat is off to Countryman for all that he has accomplished and for his and his staff's hard work to keep every employee safe and healthy.