Crumbling Infrastructure
MAKING OLD FACILITIES NEW AGAIN

Old facilities
Oil and gas infrastructure is subject to the same weathering as rocks on a mountain. Here in the upper Midwest winters are brutal. The freeze thaw cycles that take place, sometimes daily, cause concrete to deteriorate and spall. Repairs are possible but, in the life of most pipeliners, they are assigned a low priority. Concrete piers, building pads, containments can only stand up to this for so long. How long, depends a lot on latitude. The further north the more severe the climate and the quicker the facilities deteriorate.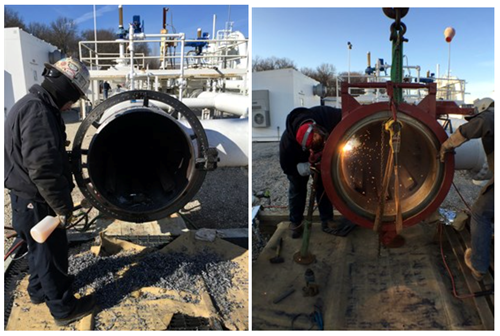 Cut off and welding on new closure
Over the years Midwestern Contractors has been called upon to renovate or rebuild these facilities. This type of work can include automation upgrades to valves, piping modifications, or adding doors to traps that are easier to operate.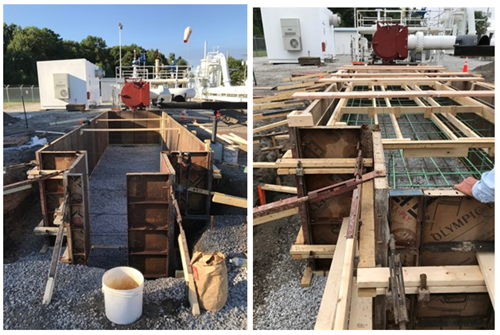 Forming and reinforcement
On a recent liquid line project, the scope of work included a new trap door as well as demolition and rebuilding of a containment.  Sometimes it is the little things that can make life miserable for the company pipeliner. A trap door that is old and difficult to open, A tray extractor trolley with corroded bearings and tracks out of level. On a minus 10-degree day or a 100 degree day this is not fun to deal with.

New containment
Engineering costs to design the demolition and rebuilding of these micro-facilities can add significant dollars to a small project. Often that money is just not in the budget. The result is deferred maintenance. Midwestern Contractors has assisted customers by simply rebuilding the structures using the customer's resident engineers to sign off simplified drawings and specifications. This enables us to provide a solid turnkey solution without the extra cost and time of engineering. In many cases we find that the original work was not done to current standards. The foundations were not deep enough, and the concrete not strong enough. Our skilled welders and fabricators can easily cut off a 32" trap door, fit up, clamp and weld a new on. They also can fabricate man walks, rails, and refurbish existing structures. This translates in to savings for our customers and a faster return to service.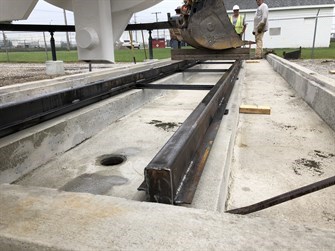 New trolley rails
The photographs in this article attest to the work we do, and the before and after shots illustrate how facilities can be upgraded and revitalized for the benefit of our customers and their employees. Equipment that is efficient and easy to operate pays big dividends in safety and productivity.
Call us for a budget estimate on your next facility improvement project.