Bi-Directional Flow Control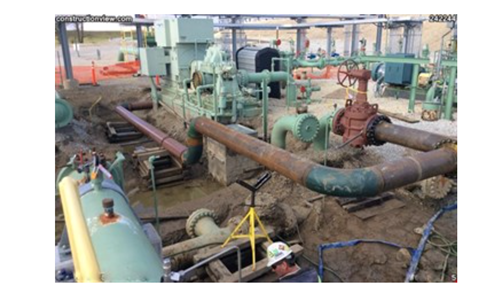 Terminals and pipelines need maximum flexibility to satisfy their customers. More interconnects are being constructed and many pipelines have been made bi-directional to allow better movement of product and to take advantage of various points of production and refining.
Midwestern Contractors won a recent project at an Ohio terminal to rework the piping to provide flow control in and out of the facility. This project required extensive hydro-vacuuming (Hydro Vac) excavation, meticulous iso-metric drawings, pipe fitting, valve installation, electrical power and signal lines, coating work and labor.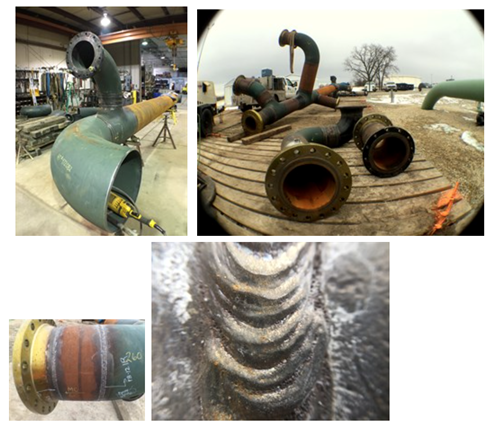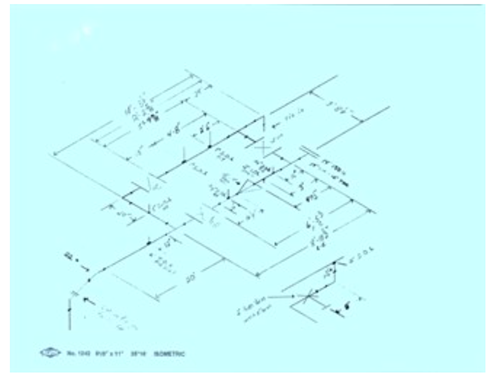 We started the project with the excavation work. Hydro Vac is the safe way to expose pipe, control lines, power lines, valves and other assets. However it is a slow process and careful consideration needs to be given to spoil management and disposal. Management of the environmental hazards of the liquefied spoils is a primary concern. Containment facilities were constructed and the runoff filtered before release.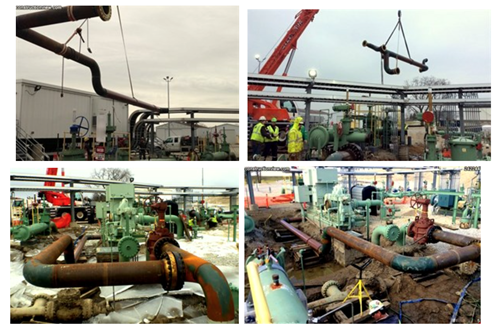 As soon as the piping was exposed our fitters started taking measurements to field verify all of the drawings where fabrication was called for. Some of the fabrications were complicated and left no room for error in the measurement. The final fabrication would be so rigid that it would have to fit. As soon as the measurements were taken and checked the fitters and welders got to work fabricating the assemblies needed for the new piping.
In the field another set of fitters and laborers set about unbolting and cutting out piping using rotary external lathes to make a clean beveled cut on the pipe. Waste vacuum trucks were standing by to suck up any product that might remain in the pipe when it opened up. Plenty of absorbent pads were on the ground in containments for the same purpose.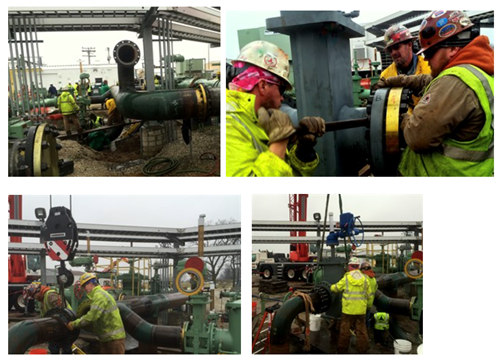 Valves, Gaskets, bolts and other small piping had been ordered and was onsite ready for installation when the major assemblies arrived. Cranes were brought in because some of the picks were delicate and required a slight horizontal movement of the old piping in order to move the demolished pieces out from under cable trays and into the clear before hoisting away.
On tie in day the new assemblies were lowered into place, bolted, and torqued. Two tie in welds were made and X-rayed. All of the assemblies had been previously X-rayed and hydro-tested.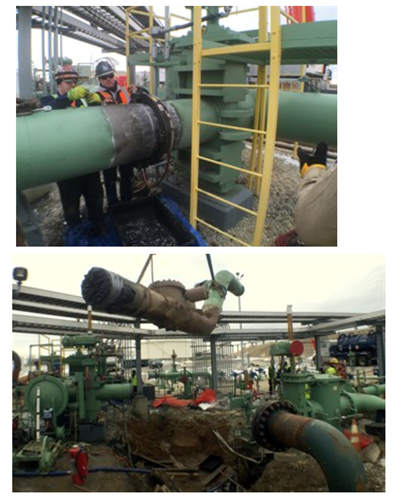 Our crew consisted of operators, laborers, welders, and fitters. We are proud of the tradesmen we employ, we appreciate the professionalism, the pride of workmanship and their attention to safety and the wellbeing of their co-workers. This project was a success because of their hard work.
Midwestern Contractors provides pipeline construction and maintenance services throughout the Midwestern United States. We work in MI, OH, PA, IN, IL, WI, MN, IA, MO, KS, KY. Contact us for a full range of services including Integrity, Station, Coating and Pipeline work. Thanks to Ztylus for the 4 in 1 lens kit for the iPhone 6s used in this article.